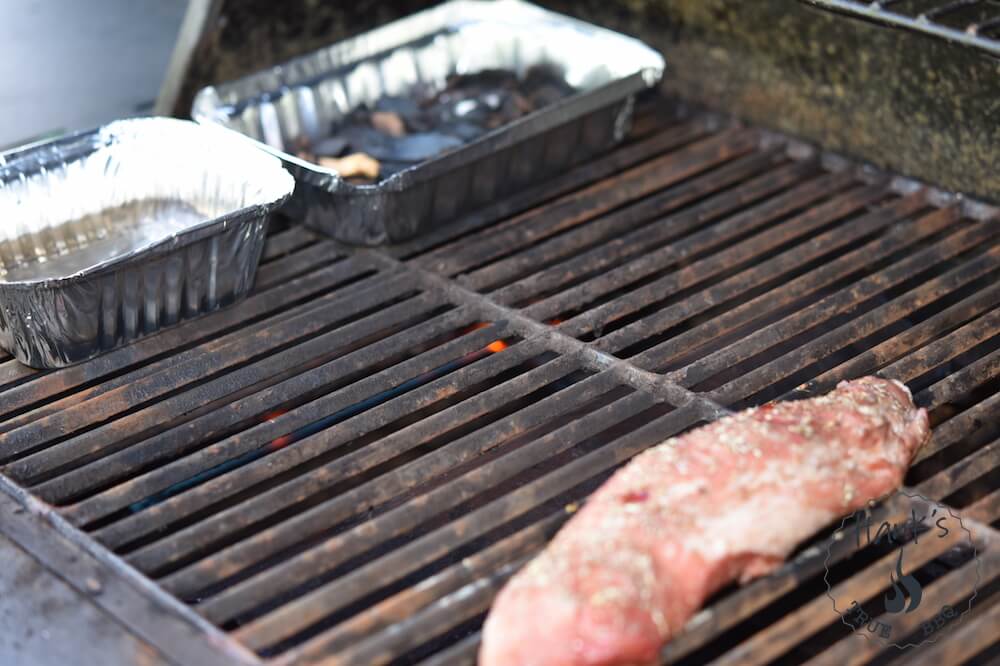 A gas grill is really convenient since it is so easy to regulate. Most grills have several burners so you can have different temperatures in different parts of the grill.
So, what's the difference between a gas grill and a charcoal grill? Well, there are a few, not including ease of use. Since a gas grill is designed to run with all burners on full speed with the lid closed, it is well ventilated. There are usually a couple of thin ventilation holes at the back of the lid. This is of course great from a security perspective, but it is also something to take into consideration when doing long cooking sessions or even smoking meat.
Water pan
Since air travels through the grill relatively fast it also mean moisture leaves the grill pretty fast. There is an advantage to using a water pan to compensate for this. A water pan is a simple aluminum pan filled with hot water. You place the pan directly over a burner so the water slowly evaporates and increases the air humidity in the grill.
Wood for smoking
You can do smoking in a gas grill just fine. As usual you have wood chips and wood chunks available, where chunks are the larger pieces.
I prefer using wood chips, place them in an aluminum foil pan so they don't fall through the grates. Start with a handful, and see when you need to refill. The trick with wood chips is to have them smoulder, but not catch fire fully. If they do you will have to refill very often.
You can also use wood chunks, they are then placed directly on the grill grates. Take a look at the picture below. It's a standard gas grill with three burners. The left one is turned on, the other two are off. This creates a 2 zone setup, and allows me to use the left-hand burner for smoking wood. The challenge is to get an even temperature, wood chunks burn more than chips, which affects the grill temperature.
The wood chunks typically catch fire after a while, this is ok, just leave them. They still create good smoke. Make sure you check on them once every 20-30 minutes to see if you need to add more. And keep a close eye on temperature.
If you're unsure of the difference between wood chunks and wood chips, or want to know more about what type of wood to use when smoking, read more here.