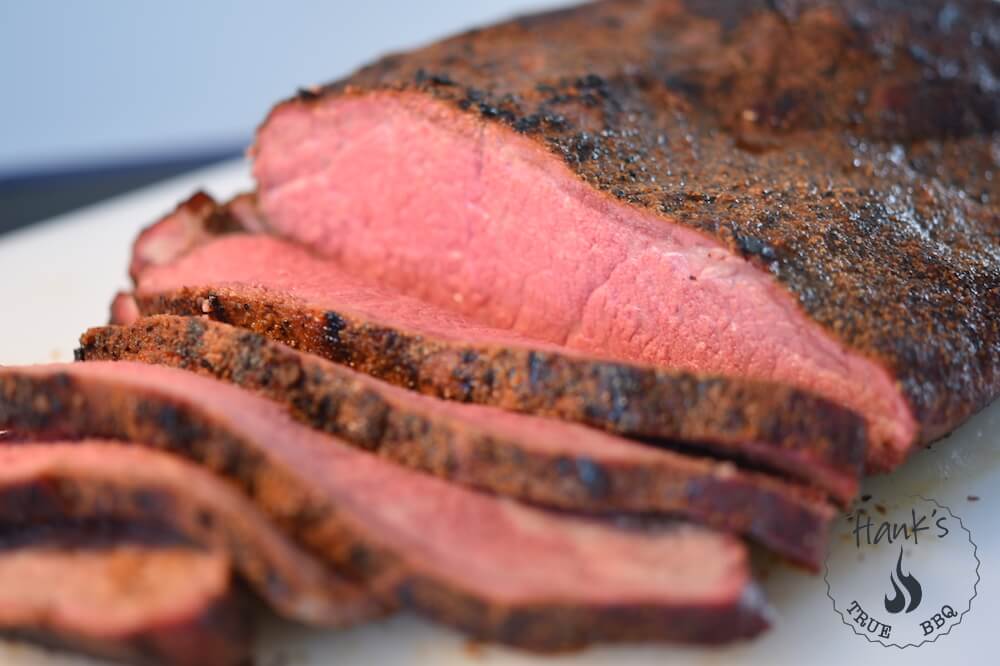 Sirloin beef is usually bought in slices, but I think it turns out great cooked whole, plus it stays real juicy.
Print
Instructions
One might argue that the list of ingredients is rather short. The specific purpose of this recipe is more to illustrate how to smoke a full sirloin, than individual flavoring. Start by trimming the meat, the fat cap and any other fat/membranes must be removed, so the rub is applied directly to the meat.

Now sprinkle the rub evenly on all sides and leave the meat uncovered on a plate in the fridge for 2-3 hours.

Fire up your grill, prepare it for indirect grilling. Have it running at 225° – 240° F. Use the snake method if you're using a kettle grill, or even better, a Slow 'N Sear. Place the meat on the indirect side. Add 3 oak wood chunks for smoke flavor on the glowing embers and close the lid. Smoke it for approximately 1.5 hours. It depends not so much on weight, but thickness. It is done when the inner temperature hits 133° F (56° C)

Now remove the lid and stoke the fire, it is time to sear the beef for good looks and extra flavor. This is real quick, so just sear it 30-60 seconds per side.

Now remove it, wrap it in aluminum foil and a thick towel, and let it rest for 30 minutes before serving. Slice it and enjoy a bite of great beef!