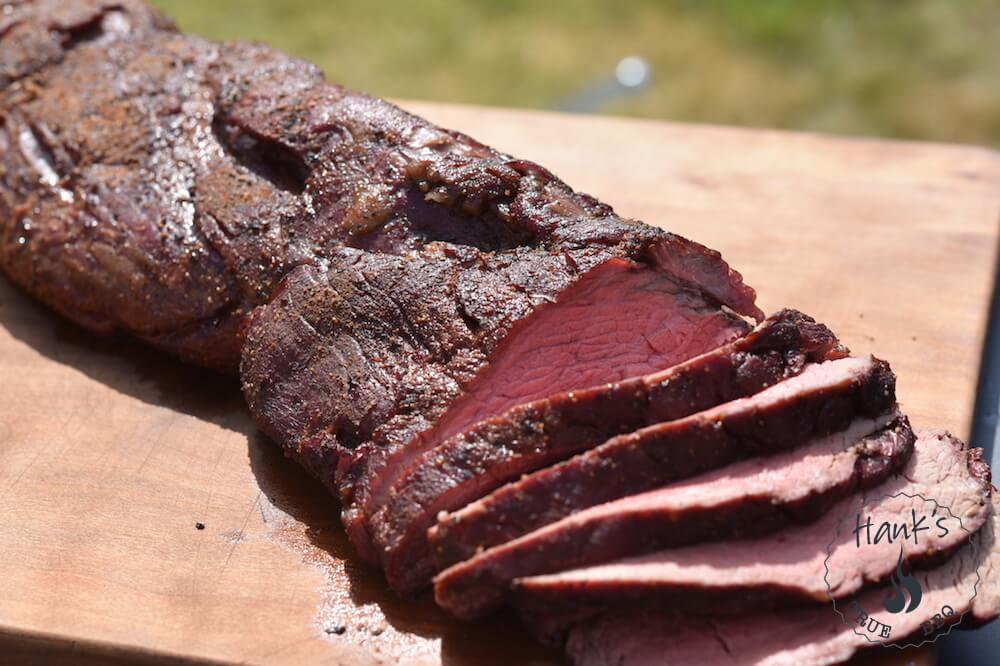 Grilling a whole beef tenderloin is more fun, it practically begs for having guests over. It is also easier to get a real juicy beef when cooking it whole.
Ingredients
6.5 lbs beef tenderloin (whole)
3 tsp salt
1-2 tbsp beef rub
3 kg beef tenderloin (whole)
3 tsp salt
1-2 tbsp beef rub
Instructions
Start by trimming the silvery membrane on one side of the beef. Since a beef tenderloin is so uneven in thickness we need to compensate for that. Do so by folding the thin end over, and truss it tightly. This makes the whole beef more even in thickness and it's therefore easier to cook.
Dry brine the meat with 0.5 tsp per lb of meat, and leave it in the fridge for a few hours. Now rub it with a good beef rub.
Fire up your grill, prepare it for indirect grilling. Have it running at 225° – 250° F. Use the snake method if you're using a kettle grill, or even better, a Slow 'N Sear. Place the meat on the indirect side and close the lid. Add some wood chunks for smoking on the glowing embers. Apple wood is good, so is oak, plum and other fruit trees.
Leave the beef on the grill for an hour, the inner temperature to aim for is 133° F (56° C). Remove it, wrap it in aluminum foil and a towel, and let it rest for 20-30 minutes before serving. This will raise the temp 2-3 degrees, which is according to plan.