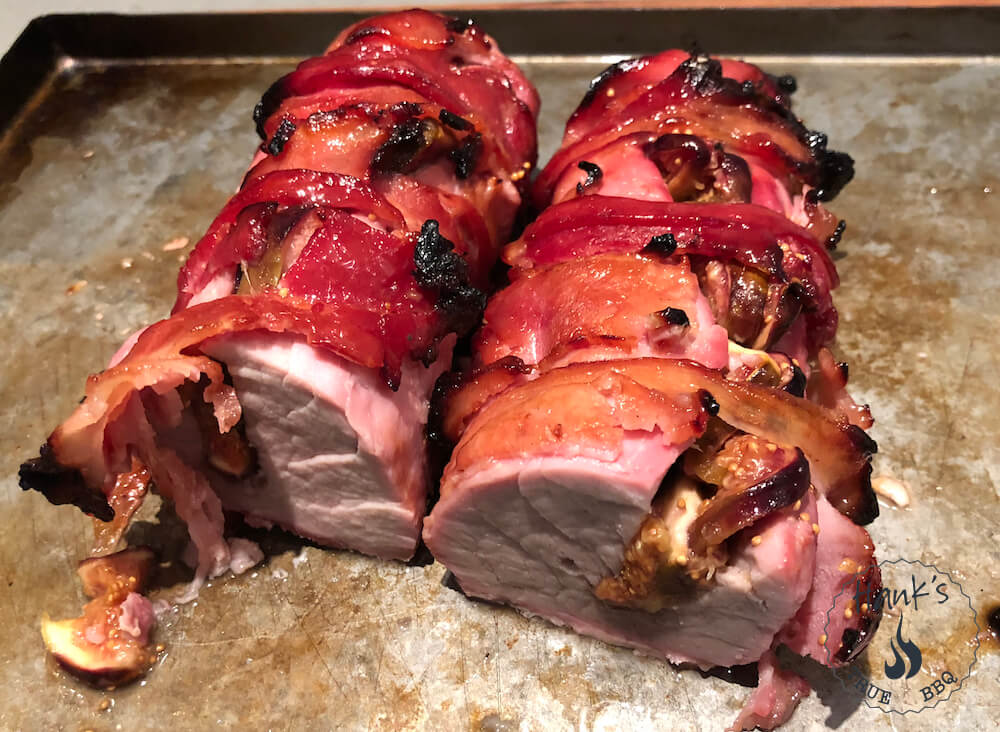 Grilled Wildboar Tenderloin
Wildboar Tenderloin is so tasty on the grill! We're stuffing this one with figs, we're glazing it with Lemon Curd and then we wrap it in bacon. Yummy!
Ingredients
20-25 oz wildboar tenderloin
1 tsp salt
4-5 tbsp lemon curd
2-3 figs
1 package of bacon
600-700 grams wildboar tenderloin
1 tsp salt
4-5 tbsp lemon curd
2-3 figs
1 package of bacon
Instructions
The tenderloin rarely needs trimming. There could be a very thin silvery membrane on one side. If so, remove it with a sharp knife. Now apply a dry brine by sprinkling salt evenly over the tenderloin and leave it in the fridge overnight.
The easiest way to cut a pocket along the full length of the tenderloin is to lay it flat on a cutting board. Now place your hand flat on the tenderloin so it doesn't move around. Use the other hand to cut a deep pocket running the length of the tenderloin, minus an inch from each end. Brush a liberal layer of lemon curd on each inside of the pocket. Use roughly half the lemon curd. Save the other half for later. Slice the figs and place them in the pocket in two layers. Now fold it all up and wrap it all with bacon. Use either butcher's twine or a couple of toothpicks to hold it all together.
Fire up your grill, prepare it for indirect grilling. Have it running at 300° F. Use the snake method if you're using a kettle grill, or even better, a Slow 'N Sear. Place the meat on the indirect side and close the lid.
Grilling the tenderloin takes roughly 30-35 minutes. When the inner temp hits 135-136° F it's time to apply the second half of the lemon curd. Use a brush to apply it all over the tenderloin. Close the lid and leave it in the grill for another 10-15 minutes. The target temp is 144° F. Now all you have to do is bring it inside, slice it and enjoy!
Here's a video that illustrates: