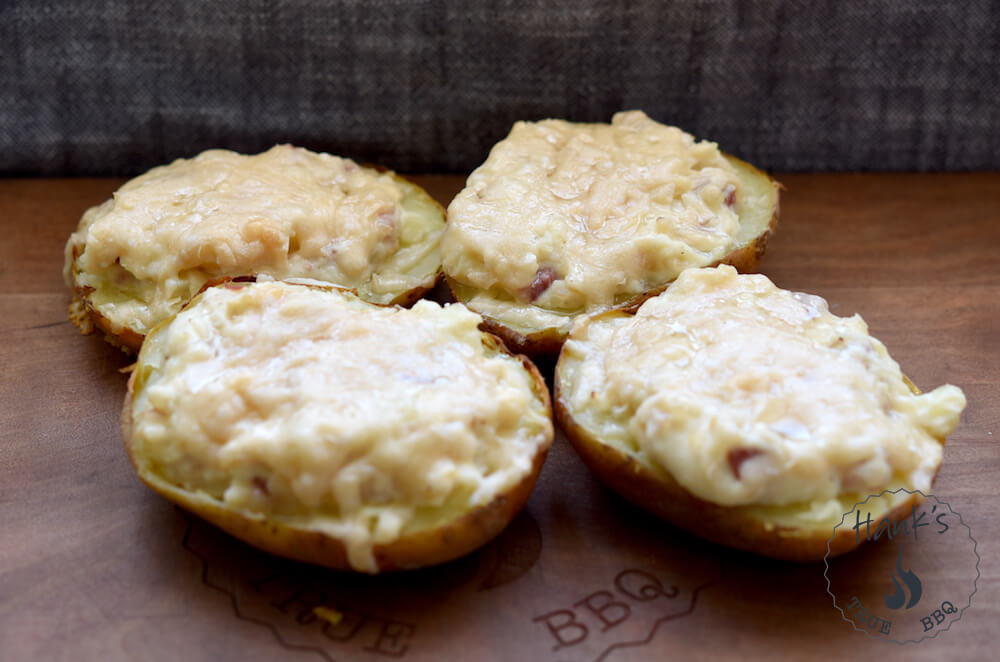 Baked potatoes are so much better with stuffing! These are first baked on the grill, then stuffed, and then baked again. Of course they are just as easily made in the oven.
Ingredients
2 potatoes
5 oz bacon, diced
0.5 cup creme fraiche
1 white onion
3 oz grated cheese (of your choice, I recommend parmesan)
2 potatoes
140 grams bacon, diced
1 white onion
1 dl creme fraiche
80 grams of grated cheese (your choice, I recommend parmesan)
Instructions
Chop the onion finely, and fry the bacon together with the onion in a frying pan. Let it cool off. Get your grill started, prepare it for indirect grilling and tune the vents so it holds 400° F. Or turn on the oven and set it to 400° F. Place the potatoes on the indirect side (if grilling, with the lid on) or in the middle of the oven and let them bake for 1 hour. Check the potatoes with a stick or a fork to see when they're done. Depending on size that could be anywhere between 45 minutes and 1.5 hours. They should start to soften all the way in.
Once done, cut the potatoes in half lengthwise. Scoop out the potatoes and place the scooped out potato in a bowl. Make sure you don't scoop too much so the potatoes become too thin. Add the bacon, onion and creme fraiche to the same bowl, and mix it with a fork.
Re-add the stuffing in each potato half and sprinkle cheese evenly on top of all potato halves. Place the potato halves back on the grill or in the oven, and let them bake for another 10-15 minutes so the cheese melts. Serve immediately.