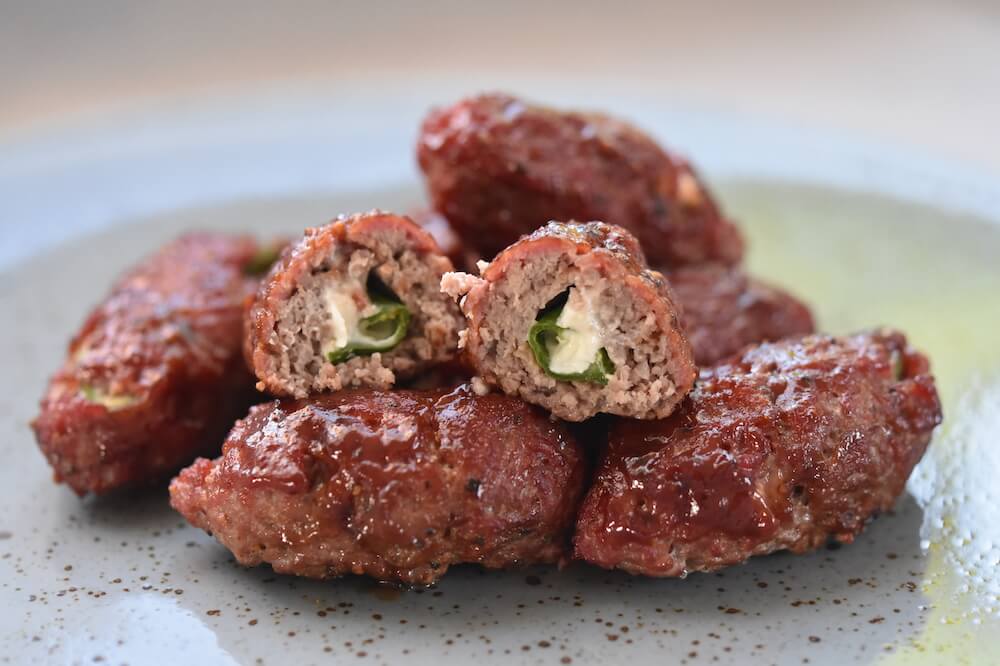 Armadillo Eggs is somewhat of a classic dish in the barbecue world. You can use either mild or hot peppers depending on personal taste.
Print
Ingredients
16-18

oz

ground beef or pork

10

jalapenos/padrones

5

tbsp

Philadelfia cheese

2

oz

grated parmesan cheese

3

tbsp

Hank's KC Royale Rub

5

tbsp

bbq sauce
Instructions
Start by firing up the grill, preparing it for indirect heat. Set it to run at 260° F (130 ° C).


Cut off the top of the jalapeno poppers. Then cut them in halves
lengthwise, and core them. Now fill each half with philadelphia cheese
and grated parmesan. Form a patty in your hand and wrap each pepper. You
may end up with more or less than 10 'eggs', due to different size
peppers. Sprinkle the eggs with an even layer of bbq rub.


Place the eggs on the grill grates and add some wood chunks for smoking.
Leave the eggs on the grill for 30 minutes. Brush them with an even
layer of bbq sauce and smoke them for another 10-15 minutes. They're
done when the meat temp measures 150° F (65° C).