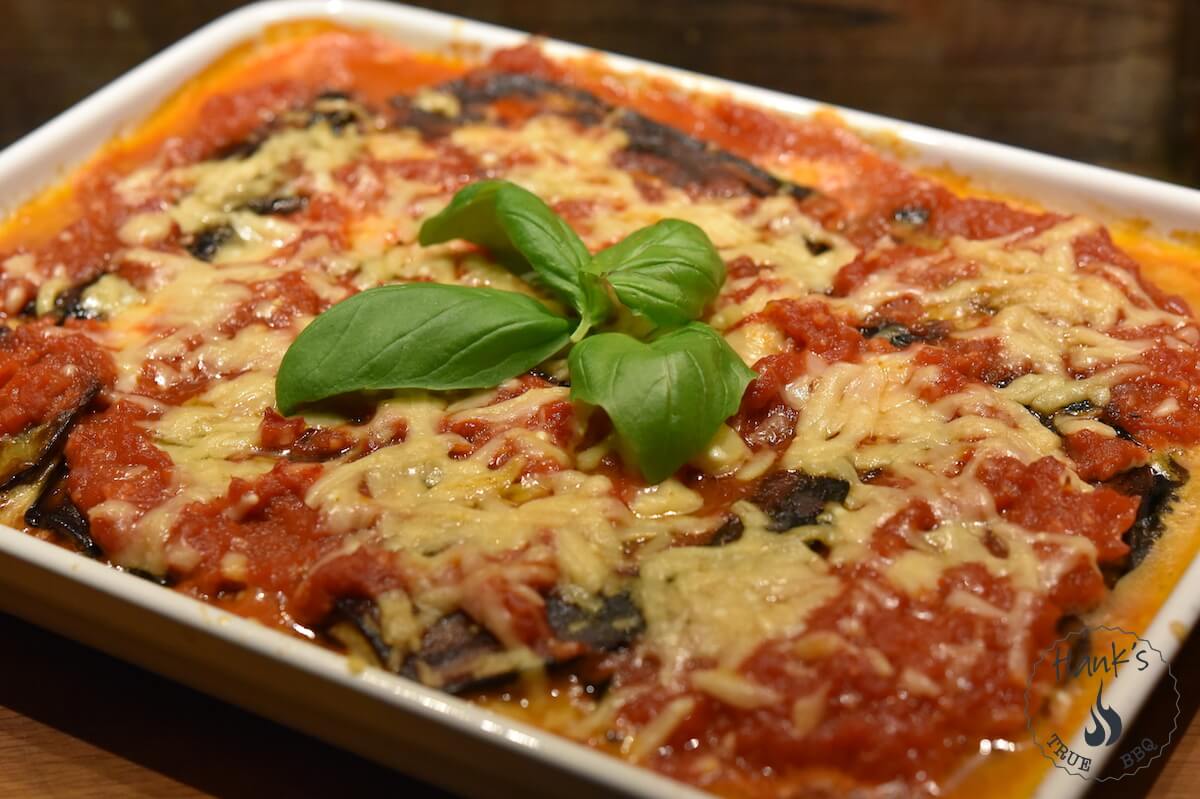 This is a classic Italian dish, made with Aubergine, tomato sauce and cheese. Serve it as a side or as a main course, either way it's delicious!
Print
Ingredients
2

cans

strained tomatoes

(2 x 400 ml)

3

aubergine

2

cloves of garlic

9

oz

mozarella

3.5

oz

grated parmesan

12

tbsp

olive oil

20

basil leaves

1

tsp

salt
Instructions
Start by cutting of the green stem from the aubergines. Slice them lengthwise 1/3" thick. Place them on a cutting board and brush liberal amounts of olive oil on all of them. Make sure you distribute the oil evenly. Now flip them and do the same on the other side. Fry them in a frying pan with oil until they get a nice char and color. This takes 10-15 minutes, but be patient, it's worth it. The edge softens, and you get a much better flavor, so don't skip this step.

Heat up a pan with 2 tbsp olive oil and add the crushed garlic. Be careful with temps, you don't want to brown the garlic. Strain the tomatoes in a sieve real brief to get rid of some of the liquid. After 1-2 minutes it's time to add the tomato sauce, and roughly chopped basil leaves. Let the sauce simmer for 15-20 minutes to reduce it. This is done to get rid of more liquid, the dish will be too watery otherwise.

Grate the parmesan and slice the mozarella. Layer each ingredient in a pan. Start with tomato sauce, then a layer of aubergine, mozarella and parmesan. Add another layer of tomato sauce and so on until you run out. Make sure you have tomato sauce and parmesan on the very top layer.

Place the pan on your grill (or in your oven) at 175° C / 350° F for 30 minutes. Take it out and let it cool off for 10 minutes. Serve it with a some fresh basil leaves.