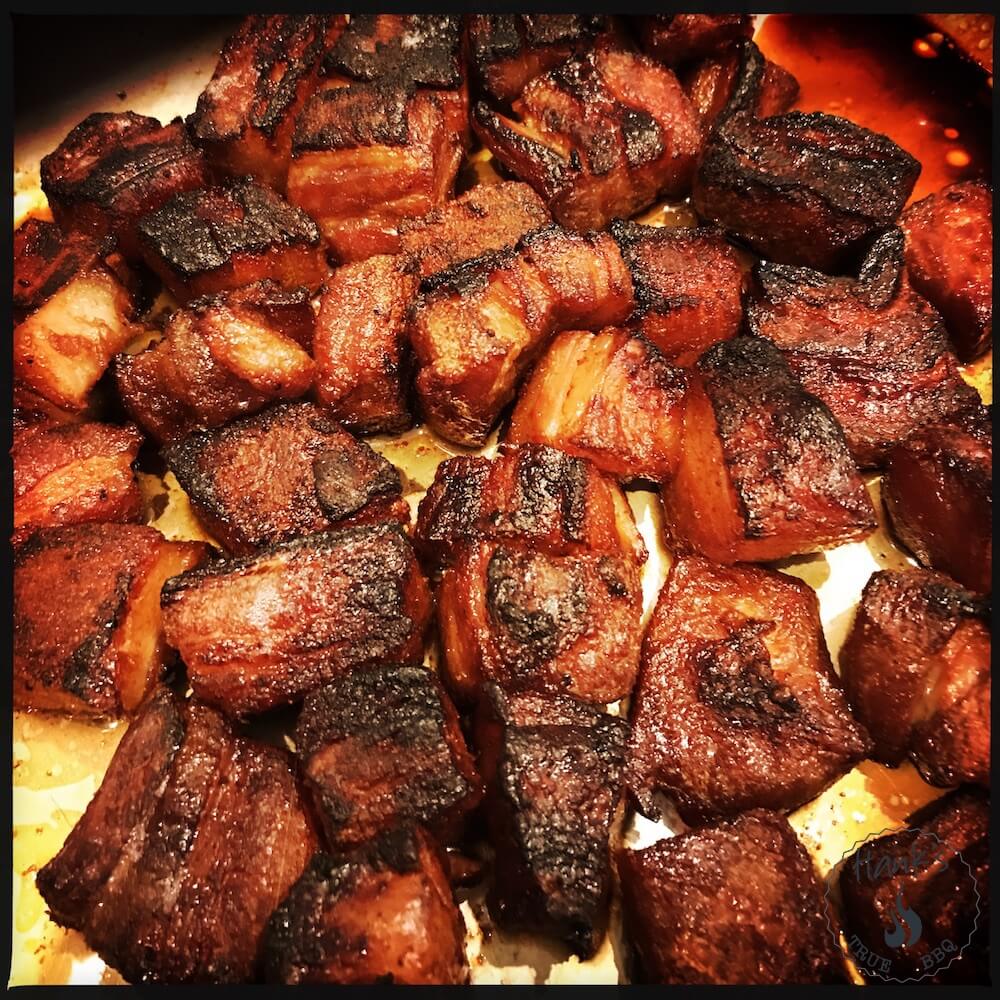 Pork belly burnt ends taste salty, fat and sweet. It's a dangerous combination, and it's hard to stop eating. Here we braise them in bourbon and glaze them with dark golden syrup. Divine!
Print
Ingredients
Sauce
3

tbsp

golden syrup

(dark)

3

tbsp

bourbon
Instructions
Burnt ends – background
Burnt ends is really the point of the brisket. You smoke it for a little longer than the flat, dice it and slather it with a rich bbq sauce. So 'ends' refers to the cubes, and 'burnt' because they get another hour on the grill. It is considered meat candy. Here we do roughly the same thing, but with pork belly.

Start by rinsing the pork belly with cold water and pat it dry with a paper towel.

Remove the skin with a sharp knife.

Flip it upside down and see if you need to trim off the ribs also.

Now dice it in 1.5 inch cubes. They will shrink a little when cooking. Now apply the salt and pork rub evenly on all sides of all cubes. Leave them in the fridge for 2 hours.
Step 1 – smoke it
When smoking cubes like this a 'frog mat' is really helpful. You can buy it in department stores or online. It prevents the pork cubes from slipping through the grill grates. You can cut it to fit your grill with a pair of scissors, and when you're done using it just throw it in the dishwasher.

Fire up your grill, prepare it for indirect grilling. Have it running at 225° – 250° F. Use the snake method if you're using a kettle grill, or even better, a Slow 'N Sear. Place the meat on the indirect side and close the lid. Add some wood chunks for smoking on the glowing embers. I prefer cherry wood with pork.

Close the lid and leave the meat for 2 hours. Time may vary depending on grills and temperature, but you wait until a nice bark has formed on the surface of the pork cubes.
Step 2 – braise
Once smoked it is time to braise the meat. This is done to make them juicy and tender. While at it we add flavor with maple syrup and bourbon. Use a one-time disposable aluminum pan. Place the pork cubes in the pan and drizzle the bourbon and maple syrup evenly all over the cubes. Cover the pan with aluminum foil and put it back on the grill. Let it braise for 1 hour. Check the cubes for tenderness after 1 hour. If they're soft and tender, they're done. If not, leave them for a little longer.
Step 3 – grill
Once done, you remove the aluminum foil 'lid' and and stoke the fire to get it hot. Leave the pork cubes uncovered, in the aluminum pan, on the grill for 15-20 minutes. Stir every now with a wooden spoon. This is to firm up and crisp up the surface a bit. Make sure it doesn't burn, in that case, take them off the grill sooner rather than later. Now place them on a plate to cool off for a bit. Then it's time to dig in! Meat candy!
YouTube Video
Here I'm making pork belly and burnt ends in the same cook: