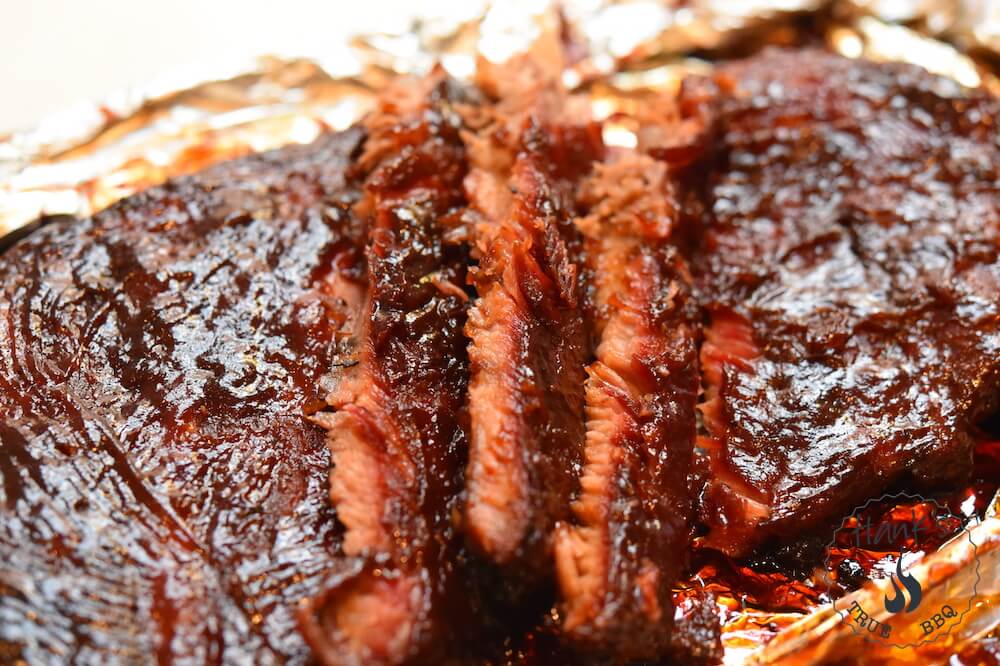 Time to go to flavor town with these ribs. We're smoking them Johnny Trigg style. He's a true legend in the bbq world, and he, if anyone, really knows how to cook ribs.
Print
Start the grill
30
minutes
Instructions
A note on cook time: ribs will tell you when they're done. But just to give you an idea thin ribs ("shiners") take max 4 hours with this recipe, and meatier ribs up to 5 hours. Check with the bend test.

Start by pulling off the membrane on the back of the ribs. Now apply an even layer of the rub on both sides of the ribs, and leave them to rest in the fridge for an hour.
Phase I – smoke
Fire up your grill, prepare it for indirect grilling. Have it running at 225° – 250° F. Use the snake method if you're using a kettle grill, or even better, a Slow 'N Sear. Add some wood chunks for smoking on the glowing embers. Place the ribs on the indirect side and close the lid. Smoke them for 2 hours so they get a nice color and bark develops.
Phase II – flavorize
Pull off two large sheets of aluminum foil. Place them on top of each other. They should be long enough to wrap the ribs. Now pour an even layer of half the squeeze butter. Spread it out so it covers a rectangular area the size of the ribs. Sprinkle half the sugar over the butter, and finally add half the tiger sauce. Place the ribs, meat side down, on the butter. Now repeat the same procedure on top of the ribs with the rest of the butter, sugar and tiger sauce. Wrap the foil tightly into a sealed package and place it back on the grill. Smoke it for another hour.
Phase III – caramelize
Open up the foil package and fold it back, forming a trough of sorts by rolling the foil back around the edges of the ribs. This is to avoid having the juices leak into the grill (or any other place also), and to help with cleaning the grill later. Now flip the ribs over so the meat side is up again. Brush an even layer of the barbecue sauce on the ribs and place back into the smoker/grill. Let them caramelize for 30-40 minutes. Check if they're done with the bend test.
Video recipe