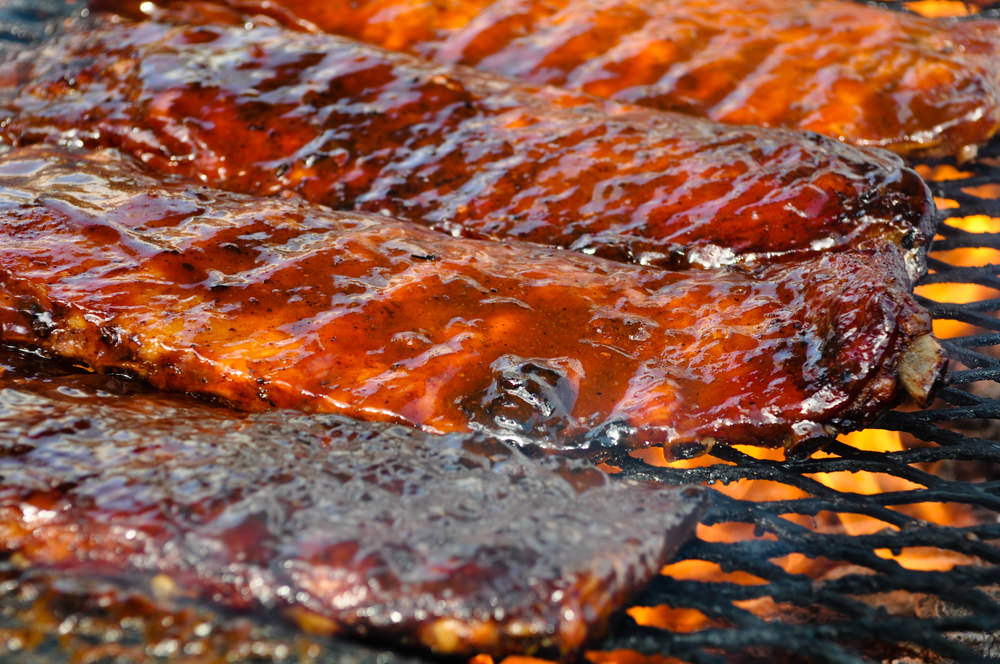 Ribs are fun to grill, and turn out really good. It is the perfect food to share when you have friends over. There are a few steps required for optimal results, and I have collected them here in my "ribs manual".
Rinse the ribs in cold water. The reason for this is to get rid of any "saw dust" from when the ribs where cut at the butcher's. Pat dry with a paper towel.
On the rear side there is a silvery membrane. You want to remove it, so it doesn't prevent spices from penetrating the meat. Also it is quite chewy, so you want to get rid of it.
Use a dry brine. Put the ribs in a plastic bag or in saran wrap and store in the fridge. Dry brine them for at least 2 hours.
Take the ribs out of the fridge and distribute the rub evenly all over the surface, both top and bottom. Wrap them in saran wrap again, and leave them in the fridge for another hour.
Right before putting them on the grill, apply 2 tbsp of brown sugar on each slab of ribs, on the upper (meat) side. See picture above. Distribute evenly.
Grill them on indirect heat, around 225° F, with the meat side up. It is important to keep a low and consistent temperature. Ribs need time, they don't get better by grilling hot and fast.
The ribs are ready when they pass the bend test, see below.
Bring the ribs inside, brush them up with your favorite bbq sauce, and wrap them in double layers of aluminum foil and a towel. Make sure the foil is wrapped tight and without holes/gaps. Let them rest for 30 minutes.
Unwrap the ribs, and serve with some cole slaw!
The Bend Test
You grab them at one end with your grill tongs, and pick them up. When the ribs bend, and the meat between the ribs "break" or start to separate, you know they're done. If they just break at the very surface, give them a little more time. See the video below which illustrates this.