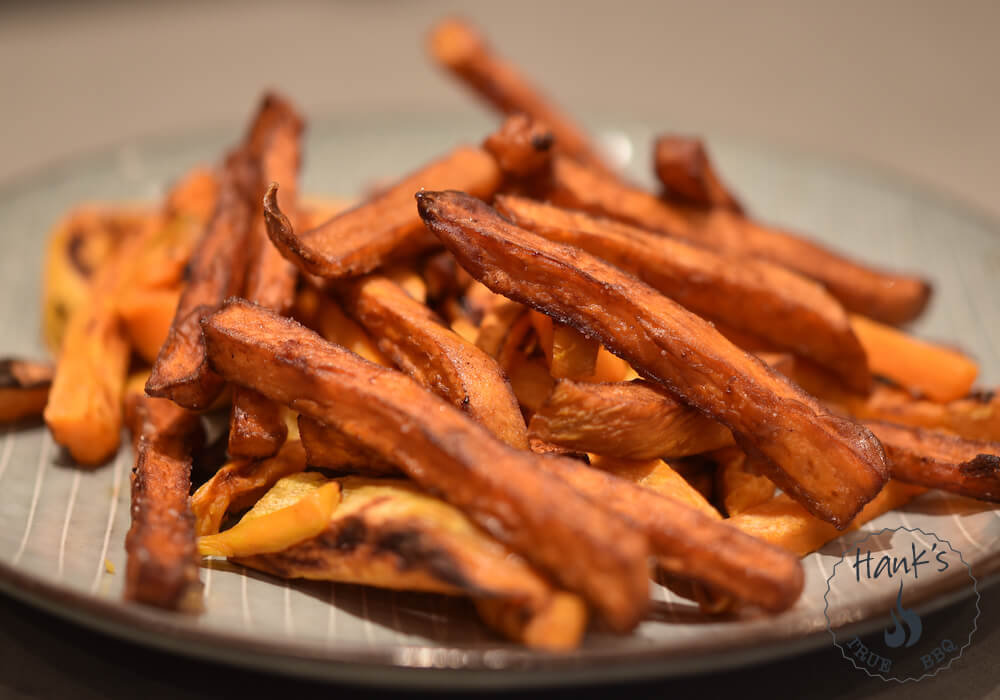 Deep Fried Sweet Potato Fries is a great side for grilled meats, and it's quick and easy.
Ingredients
1 sweet potato, 28 oz
2.5 cups peanut oil
1 tbsp corn starch
0.5 tsp salt
1 sweet potato, 800 grams
0.5 litres peanut oil
1 tbsp corn starch
0.5 tsp salt
Instructions
Start by peeling the sweet potato. Halve it with a knife repeatedly, then cut it in 1/4″ fries. Rinse them in a colander and pat them dry with a paper towel. Don't use a towel, as the sweet potato will leave an orange color on the towel.
The trick to getting crispy fries is to sprinkle a layer of corn starch on the fries. Corn flour works too.
Spread them out on a oven pan (or similar) and sprinkle them evenly with a thin layer of corn starch. Don't overdo it, they shouldn't be covered in white powder. Now flip them over and repeat.
Add the oil to a deep pan and heat it up to 320° F. This is a good frying temp. Add a handful of fries at a time, don't add too much, this is to avoid them clumping together. Fry them for 2 minutes, then remove them with a pair of tongs and do the next batch. Continue until all fries have been fried once. Now start over, frying all batches a second time, again for 2 minutes. Remove the fries and place on a plate with a paper towel. Add salt to taste, and dig in! The oil in the pan can be reused, just let it cool off.